We see the Phoenix rising from the Ashes
10-01-16 15:55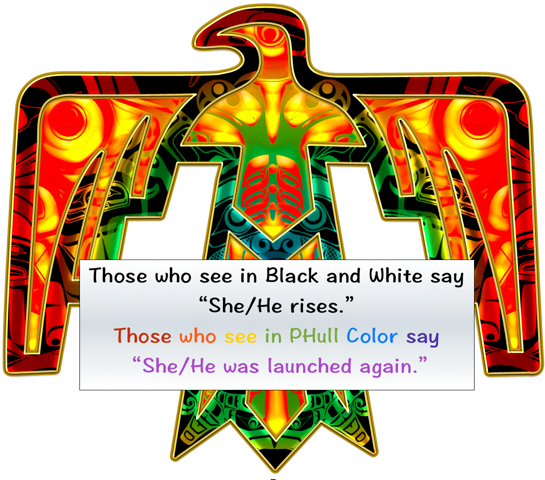 Those who see in Black and White say "She/He rises." Those who see in PHull Color say "She/He was launched again."

America translated Nietzsche's concept of the Uberman into the word Superman. All balloon. While the original German Ubermensch is better defined as "a transcendent human being." (Yuuyaraq in our Alaskan Yupik culture.) And, as a transcendent human being, we are asked to be better than human, or better than ourselves - which is a growth mindset. And, points to a human being who understands her/his responsibility to the web of life; connected to the earth.

Zarathustra's character knew the Ubermensch as the creator of a new world, through a new way of seeing. He saw a big enough balloon on top of a web that is interconnected to other webs, across the world, and that is connected to webs, all the way down. (As an aside, der Letzte Mensch is the "last human being" - this human is the anti-thesis of our webbed human being, as the "last human being" lacks ambition, resilience, and seeks conformity, primarily because She/He stands alone, in a crowd.)

Those who see in Black and White talk of "toughen up,", "Deal with it," and "That's life!" They tell others "Don't be so sensitive," "Suck it up," "Don't take things so personally," "Eat what is served," and "Accentuate the positive."

The more people see the world in black and white and focus on the balloon, the less we'll be able to see the whole world around the whole child. The less we see people and their developmental ecologies in PHull Color, the less we'll be able to affect the conditions that set up people to be Ubermensch. And, the less we'll know which conditions to amplify and invest in, and which conditions no longer serve human beings.

Our ROY G BIV model does have elements that accentuate the positive, play to strengths, but it is ALWAYS in the context of "What is your net's worth? " or "Is your net working for you?" We do not define resilience as "deal with it." That is far too simple, and will eventually wear anyone down, and out. Instead, we invite people to be resilient by seeing themselves in PHull Color and working to add value to their web, through adding value through the webs of others.

Our definition of resilience is profoundly deep. We define it as "I need a web, and I know I have the knowledge, skills, and support to get one, to grow one, and to sustain one."

Very few are able to rise, like the Phoenix, the first time, without support. And, if the wrongly conceptualized American concept of Superman does rise on his/her own, odds are even less that they will rise, a second time, without a web.